Household Services
We provide two essential household services for our customers: green or garden waste recycling and a general waste collection.
General Rubbish
Our general rubbish collection service is ideal if you have a larger amount of weekly rubbish or you want to keep it secure, more hygienic, and safe from animals. Separate out your recyclables for your local council's kerbside collection if one is available, otherwise put everything (apart from green waste) into your Earthcare Environmental wheely bin and leave the sorting to us.
For general waste we provide a 240-litre wheely bin, which is collected from the kerbside. Skip bins from 3 to 9 cubic metres and a number of alternative containers are also available on enquiry.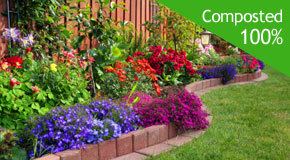 Garden Waste
Earthcare Environmental green waste collection is a simple, convenient way to help you keep your garden tidy and ensure garden waste is turned into high-quality compost.
We supply a 240-litre wheely bin you can take around the garden and put your clippings into. It will be collected from the kerbside on a regular 4-weekly cycle, with a simple calendar to remind you when collection is due. Or for a small increase in price you can choose to have it collected from within your property.
You will also get a free regular newsletter with interesting tips on garden care and composting.
What does it cost?
All Marlborough households click Order Now to order or if you prefer, you can call us free on 0800 200 320.
Let's get started
Once you have placed your order either online or by telephone, we will deliver a bin with a calendar to advise when the collections will take place. Accounts and checking schedules can all be taken care of on our Website by clicking My Account and entering your password.